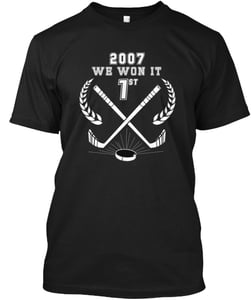 $

2.00 - On Sale
The saying is on the front of the shirt and the back is blank!
Comes with a tear off tag, so you can wear it tagless!
Make sure to wash inside out, cold water, and air dry or tumble dry low! It will help your shirt last longer!
DISCLAIMER:
All art work featured on TPNHockey.com or TPN Hockey is conceptually original, produced by hand and owned by us. Any and all characters created or commissioned by us - even those based on real people - are completely fictional. Any resemblance to anyone real or fictional is coincidental.
Availability
XL - 0% in stock

Sold Out

L - 0% in stock

Sold Out

Medium - 0% in stock

Sold Out

Small (Youth XL/L) - 100% in stock